Welcome to the ComputerHobbyShop




(Posts by a Professional IT Trainer & Computer Expert)

If you enjoy tech hobbies & want to own a great computer at far less than normal cost,
I can help you get one. See how 'RAM' Makes Computers Fun and Affordable!

Hi, I'm a baby boomer tech geek and computers are my hobby. Since the boomer generation is the first to grow up in a technology-dominated world, us boomers have seen it all happen, from LPs to DVDs and from Happy Days to BluRays. Join me as I share fun Custom Built PCs and talk trends in tech hobbies.

It's real geek time with 'RAM', (Richard A McFarland).


---
Why I built this site.
People used to get together in User's Groups to help each other out with tech as far back as the 70's and earlier too.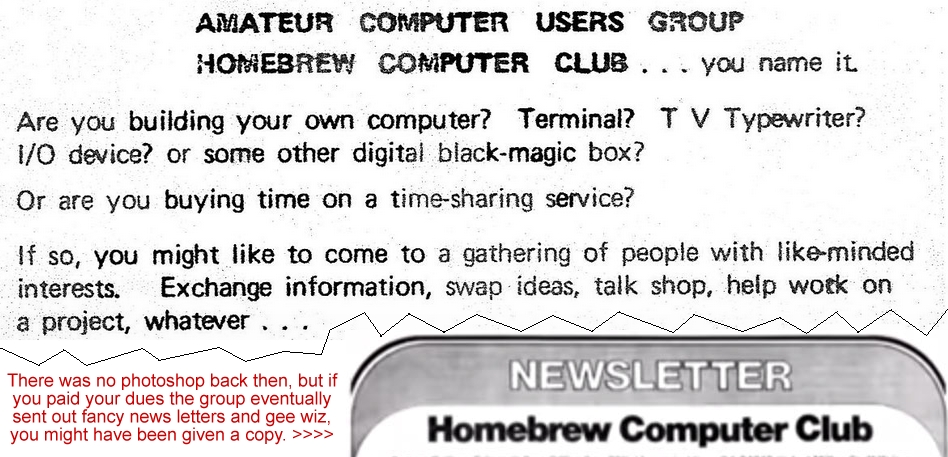 My goal: Bring you expert help from my lifetime as an IT Professional. It's time to help again!

If you have a fun idea for ComputerHobbyShop, please contact me and I'll consider it for future posts.


---

06/23/2020: AMD Ryzen 7 3800X Review. Counting cores and straining to max CPU speeds is the familiar task for anyone needing more power at less cost. The good news is, the AMD Ryzen 7 3800X checks off all the boxes for the serious power user while staying far away from the higher costs of a Professional Threadripper workstation.




I give a 5 Star Score to the AMD Ryzen 7 3800X. It is simply the best CPU this side of an expensive workstation. You'll get the most bang for your buck while still seeing shorter compile times and faster project completions, especially when matched with an X570 ASROCK Steel Legend. A 3800X gives an added speed bump, but the indie youtube creator, F7GOS uses a 3700X when he upgraded from an ASROCK X370 to X570 Motherboard.


(video source, F7GOS on youtube)

I did not get pay nor any compensation for this reveiw, but if it sounds like a commercial, it deserves the praise. All my tests made me happy to endorse the better results with the Ryzen 3800X and AMD has a real winning CPU here.


---

05/02/2020: It's true that the Covid-19 issues have impacted everyone and this site will be trying to get things back to normal and I will hopefully be able to get back a normal routine again soon. I don't want to get involved in the politics of it, but in the mean time there are many questions to be answered like the one below...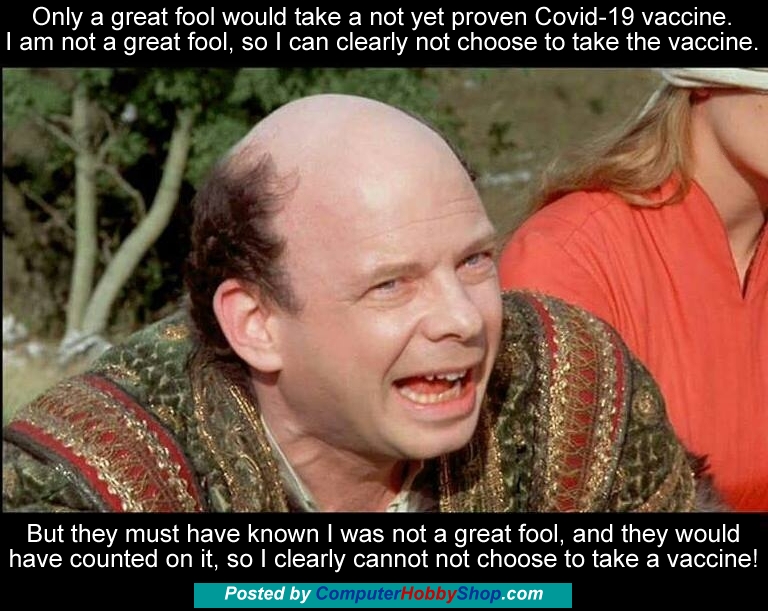 You can decide for yourself. Wishing everyone to be well and stay safe. RAM


---

02/21/2020: My post for today is about a 50" HDTV for a Family Home Theater / Game Room.



This type of TV makes a great monitor for website editors and owners of both Macs and PCs. Besides having 3 HDMI ports, like the HDTV I use to post to this website, it also has VGA & Composite Video ports for older game machines. I've also connected a Mac mini and Mac Pro plus an Apple TV and a Dell Gaming PC too.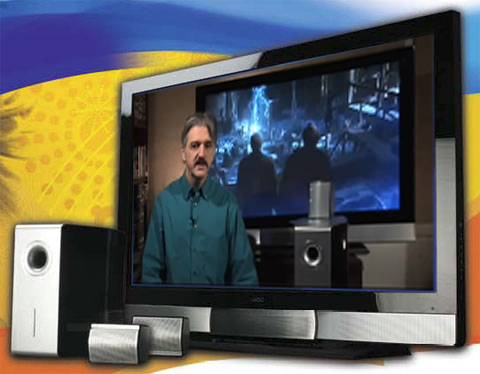 In my next tech hobby post I'll talk about a rare Dell Gamer's PC that you might love to have,
so be sure to come back soon for my next fun and uplifting ComputerHobbyShop post.


---
01/23/2020: Wow, that last post for a green earth PC finished at 44 bids!
When we work hard we'll want to take a break to play a few games too! Here is my daughter's DSi XL.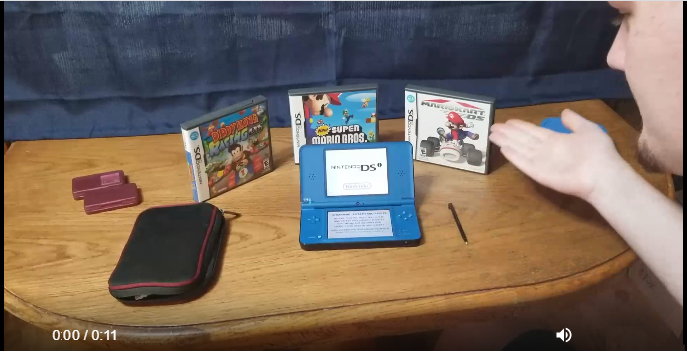 To help her, my son made a simple video that shows more about this DSi XL Console!

Honorable mention goes to naymare-7, who just purchased this on eBay. For him or anyone else interested, here's good news about this DSi XL. If you want to install a lot more fun stuff, I found a video with links to websites, that shows you how to mod it for root access. It seems a lot of people are doing that and you can essentially jail break it to load more games and unlock a lot more of it's features than was previously possible when softmodding this DSi XL console. Although I have not done this yet, it sounds like a lot of fun, which is why I built this hobby website to begin with. I'll see you next time. Won't that be fun!


---
01/14/2020: In case anyone else wants to know, I received a question on my Dell Intel Core i5 with Fast SSD Drive!
'kevigadsde_0' on eBay wanted to know, ... 'will your computer be able to hook up to my hdmi tv or [does it have to] be a computer montior?' I replied, 'No problem, you just need a DisplayPort to HDMI adapter. You could also adapt DVI to HDMI, but trust me, DisplayPort to HDMI is better ... the adapters are cheap, and can be found on eBay...'
I have converted this PC from "BuyItNow" to an auction and it is at $9.95 at the time of this post.

What, you didn't get to bid? Sorry if you missed it! Don't want to miss out again?
To be among the 1st to know subscribe below and if you like games, you're sure to have fun at my most current post!


---
01/13/2020: I never thought I'd see 2020. I was born around the time that Sputnik was launched into space.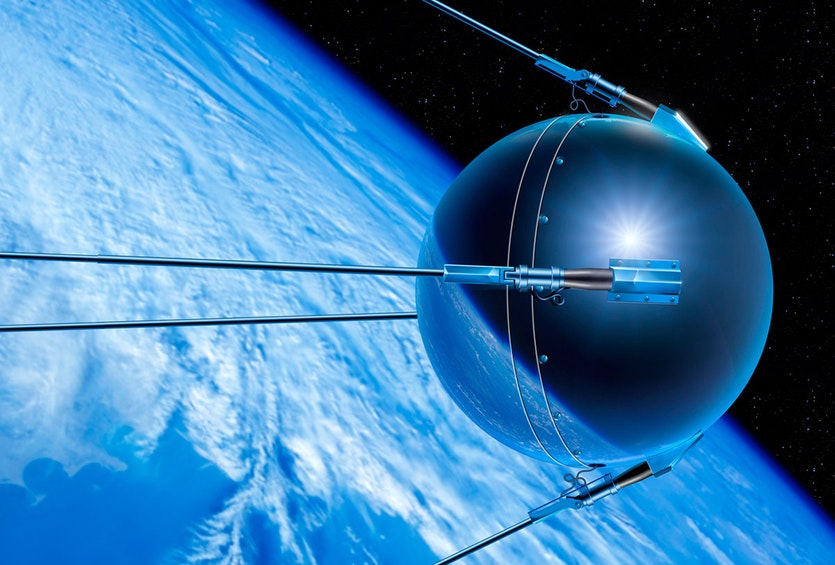 I remeber the late 50s and early 60s were times when many thought the earth would be destroyed by nuclear war. But today the trend is more towards Arctic ecosystems protection from oil spills and black carbon emissions.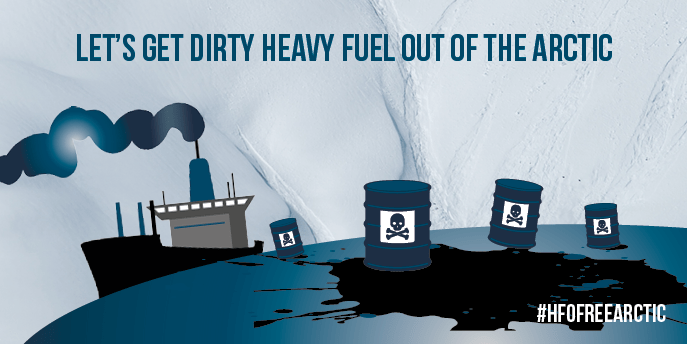 I grew up on a farm & fought for the preservation of wild life. This attitude of a green earth was new to many people, but I followed it into my future work with computers. See my Green Earth PC Project for January 2020.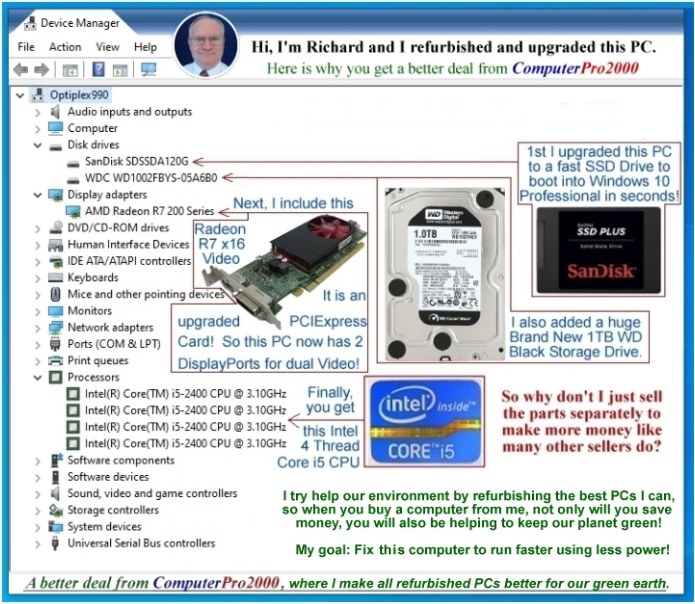 ---
12/30/2019: Here in my last post for 2019, I've just upgraded a Dell Intel Core i5 with a Fast SSD Drive. It now boots faster into Windows using less power! I also has a new WD Black 1 TB Hard Drive for website graphics, data backups & maybe even a games library too. It was a lot of fun to refurbish. Click the image for more details.
Happy New Year!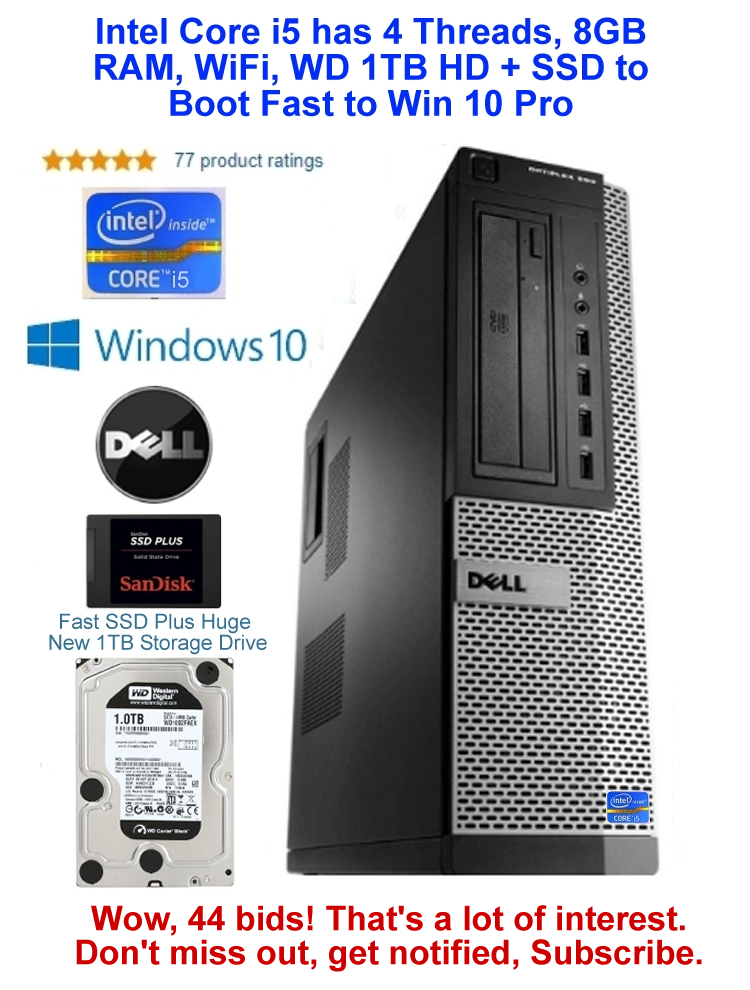 I think you would have liked how fast I made it.

So you won't miss out again, subscribe below and you can be among the 1st to know.
This was my last carefully refurbished project from my last post in 2019. See you in 2020!


---
12/11/2019: Here's feedback from one I helped on the December 4th post, 'Refurbished Intel Core i7s'.



(I think he meant to say, "transaction", but his main point is still clear)....
He bought most of my PCs from my post last week and he's very happy!
I'm glad, but so more people get a chance, in the future I'd ask followers to only buy once per post.


---
12/4/2019: On this date, I've been refurbishing used PCs & Macs just for the fun of it and
I've just finished 4 PCs and 1 Mac. See the Refurbished Intel Core i7s listed below.

Here an entire PC can sell for less than just the CPU might sell for alone.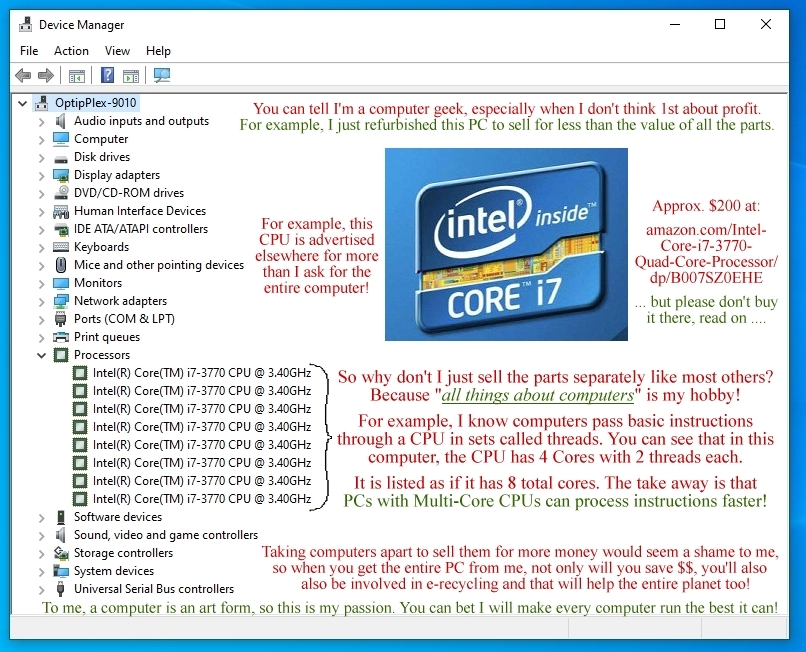 Take a good look at this Intel Core i7 Dell PC for example....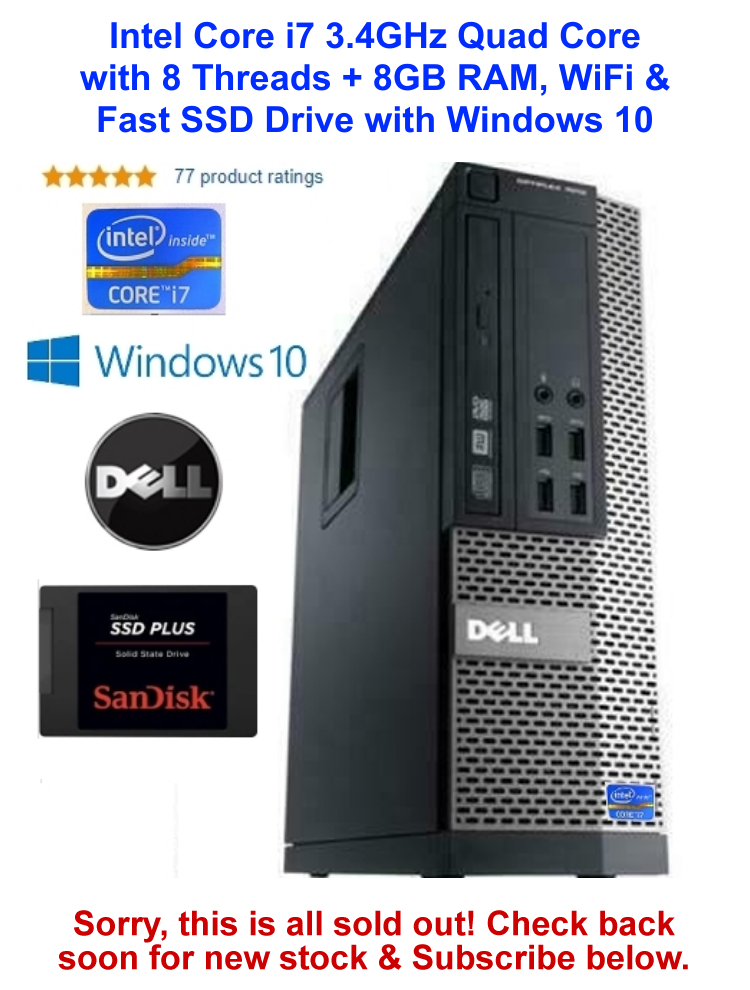 Click to see the original details and so you can be among the 1st to know, click the subscribe button below.

And if you like Apple computers, then here is a Mac mini you should see....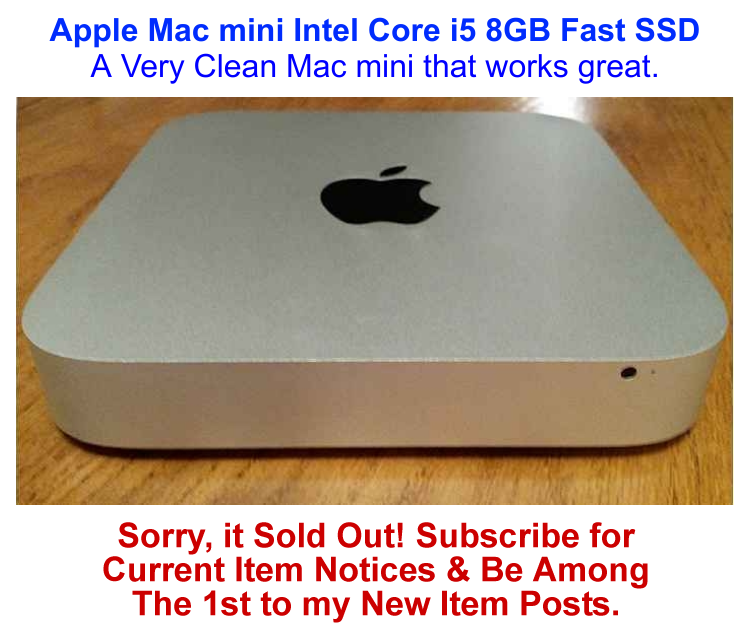 Click to see the original post or be among the 1st to know, click subscribe below.


---
RAM's RANDOM ACCESS FILE:

My Tech Time Machine to take you back to cool things in the tech world... there and back again!

SHARE, (a 1955 group of aerospace industry users of IBM mainframes), is the oldest group still active, but most all
of those once popular user's groups & club meetings have long since moved to the Internet as 'THE' source of help.

New changes continue as studies now show that most people trend to view websites via mobile devices.

I'm rebelling against trends. My desktop PC connects to my large screen TV and is my favorite way to surf the net.

Looking for a good tech job? Many tech oriented jobs exist with "specific goals & strategic openings".

Tech workers who speak a second language are needed as the demand for bilingual workers is rising.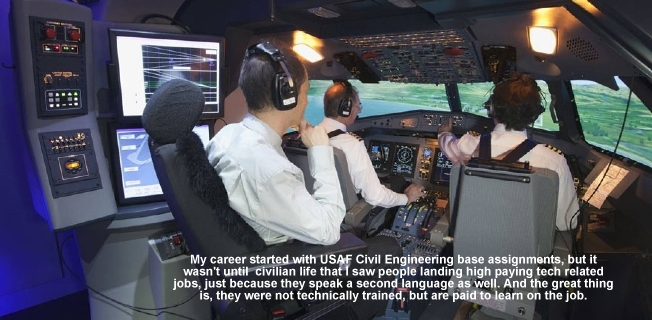 When I taught tech seminars, it was with all expenses paid as I had traved to teach a thousand + clients
in the lower 48 states, Alaska, Hawaii + Canada. Traveling trainers get served by a lot of flight attendants.





I always enjoyed traveling, especially to share my best tech ideas.
My success helping people has encouraged me to post on this site and share my expert skills!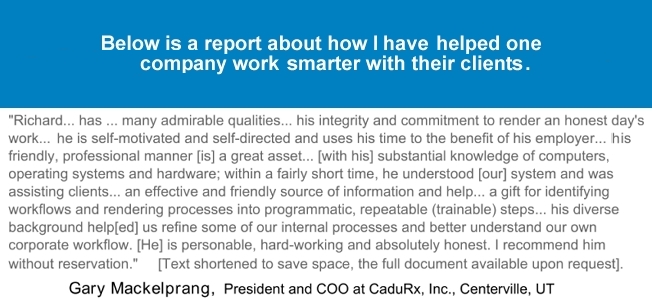 Eventually, seminars became less popular than the Internet and times changed.

I found new work teaching tech at a U.S. Dept. of Labor Center.





There, the real challenge seemed to be getting people to beleive in what they can do!
When Covid-19 hit in 2020, it was shut down. I miss it and earlier times when I would get reviews.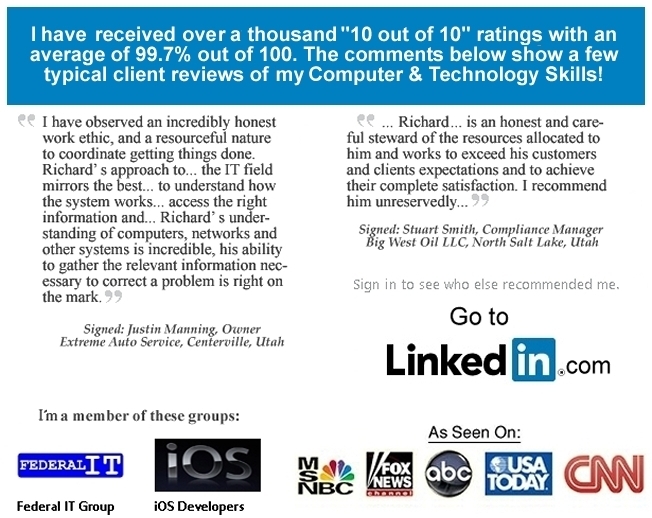 Ready for more? Besides all the great deals, there's a lot of fun at ComputerHobbyShop.com!
See my sign up & subscribe to be part of the fun and not miss another post.